The Faculty Summit is open to all Faculty and Staff.
Scroll to the bottom for the registration link.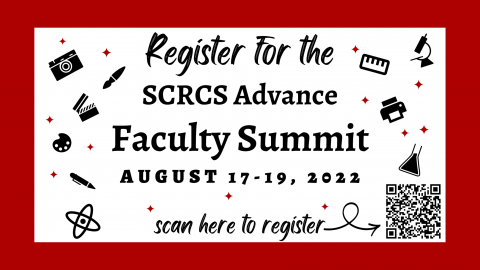 Faculty Summit 2022 Schedule
Wednesday, August 17th @ 1:00pm - 2:30pm and 3:00pm - 4:30pm
In-person: Dupré Library 221
Attend two in-person and interactive workshops with the theme The CURE for Research Participation, facilitated by Dr. Phyllis Baudoin Griffard (Biosketch). Participants will explore, collaborate, and design sustainable research experiences appropriate for their undergraduate courses.
Session one 1:00 pm - 2:30 pm: Inoculating the Culture, will address the larger academic context in which research-rich courses will increase and become the "norm" at UL Lafayette.
Session two 3:00 pm - 4:30 pm: CUREing Your Own Classes, will help you develop specific plans ready to add to your fall syllabi.
Each session can be attended independently of each others.
---
Thursday, August 18th @ 8:00am - 9:30am and 10:00am - 11:30am
In-person: Wharton Hall 222 
Zoom: Meeting ID: 924 1580 9182, Meeting Link
Attend an in-person workshop with the theme From Paperwork to Pocket: how to fund undergraduate research and improve broader impact on grants by increasing undergraduate research.
Session one 8:00 am - 8:40 am: Research Apprentice Program Functionality and Proper Placement of Students with Mentors for Maximum Growth Opportunity.
Sheila Holmes, Coordinator of Research Apprenticeship Program College of Engineering (Biosketch).
Session two 8:45 am - 9:30 am: Integrating and Funding Undergraduate Research in Humanities and Multidisciplinary Research Projects
Liz Skilton, Associate Professor of History & Director of Public History (Biosketch).
Session three 10:00 am - 10:40 am: From Paper to Pocket: How to Pay an Undergraduate Student Researcher.
Todd Henry, Coordinator Specialist of Student Center for Research, Creativity, and Scholarship (Biosketch).
Session four 10:45 am - 11:30 am: The Advance Program in the 22/23 academic year: What to expect. 
Sherry Krayesky, Director of Student Center for Research, Creativity, and Scholarship (Biosketch).
---
Friday, August 19th @ 11:30am - 12:30pm and 12:30pm - 1:30pm (Virtual)
Zoom: Meeting ID: 971 3943 9395, Meeting Link
The Keynote Speaker will present virtually.
Expanding Research Access and Increasing Student Engagement: Binghamton University's CURE Initiatives
Megan Fegley, Ph.D. Director of First-year and Summer Research Immersion at Binghamton University, New York (Biosketch).
Snack-n-Chat 12:30 pm - 1:30 pm (Virtual): Open Discussion
Facilitated by Jessica White, Academic Content Coordinator of Student Center for Research, Creativity, and Scholarship (Biosketch).